Throughout the years that I've been in love with reading, I encountered several books that truly left its mark on me. And as the years go and with the huge number of awesome books being released each year, the list of my favorite books just keeps getting longer and longer.
Here are some of the titles that I've been in love with way way back in time and up until now. Here are some of my Forgotten Favorites…
Altered Series by Jennifer Rush
It's been a very long time since I finished this series but what really stick to me is the presence of 4 genetically altered boys living in a place called The Branch and a girl whose father works for the said place. A very fast phased story that literally put me at the edge of my seat. Plus, the budding romance between Sam and Anna didn't hurt as well.
This book series reminded me of the TV Series Beauty and the Beast from CW. Holler if anyone remembered that TV series as well? 😉
Dairy Queen Series by Catherine Gilbert Murdock
A very dynamic story that covers family, friendship and young love. The main character and the speaker, DJ is such a great storyteller. I remember binge-reading this series way back in college and I just enjoyed DJ's voice. Dairy Queen is one of those underrated stories that I really want a lot of people appreciate more. This story is more than just the cow that is on the first book's cover. There's a huge number of laughter, tears and lessons in these 3 books.
I always have a soft spot for royalty-like love stories and though Dante is not that of a royalty (Is a Prime Minister's son considered a royalty?) His and Reece's story has been an enjoyable and a remarkable one for me. I remember lusting over the setting of the story! I so love Dante's home country! The writing was flawless and easy to read. Ohhh, I think I better re-read this soon, yes?
First Comes Love by Katie Kacvinsky
Another series that I considered underrated since I don't think a lot of my friends (IRL and virtual) know this series even exist. Though the main characters may come as unreliable and annoying for most the story, but for me, they are real humans. Humans that are still trying to look for who they really are. Dylan and Gray are like 2 sides of a coin; Very much different from one another. This series is mainly about the relationships and how two different people, who seem to belong into two different types of worlds, meet and fall in love and how their story unfolds.
Garden Spells by Sarah Addison Allen
A simple yet magical story of the Waverly Clan and their magical garden. Garden Spells is a feel-good story that I did enjoy dearly. The writing, the plot, the characters and even the subtle romance all blended so well.
My Life Next Door by Huntley Fitzpatrick
It's been five long years since this book was published and the first time I've read it but still , this probably one of the favorite stories EVER! My Life Next Door really captures my heart from its very first page up to the very last. The book offers a wide range of characters with different personalities and the very complicated plot between the Garretts and the Reeds. I love how the story is not mainly focus on the two main characters – Samantha and Jase. We were given family backgrounds for each character. The whole story was a roller-coaster kind of ride but overall very memorable. Another one of those books that I'll probably never get tired of rereading.
The Rules for Disappearing Series by Ashley Elston
A story wherein the main characters are under witness protection is a new field for me so reading this is like taking a leap of faith or running blindly or stuff similar like that. But no regrets because this book was great! The premise was unique and interesting.
The first book was very strong and powerful and very remarkable for me though the 2nd book is quite a let-down compared to the 1st one. I had a hard time comprehending who's who – who's to trust and who's not.  But all in all, everything got settled.  All's well that ends, well right?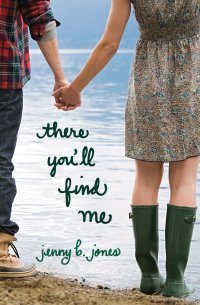 There You'll Find Me by Jenny B. Jones
It's not always you get to read a book set in Ireland. If you've read one, its definitely memorable, right? There You'll Find Me's story was poignant, captivating and beautiful. A book that pulled my heart-strings. It didn't just take me to the beautiful place that is Ireland but also made me feel the pain and loss and finally acceptance. Beckett and Finley are real characters and they will always live in my heart.
Time Between Us Series by Tamara Ireland Stone
Anna and Bennett has the most screwed up long-distance relationship. Because Bennett lives in the year 2012 while Anna in 1995.
I love time-travelling stories and this one has been a favorite of mine since I've read it. Time Between Us is a story of romance that is destined to fail yet you cant help but continuously read it and pray for it to succeed. It was a very straight forward story and even though the attraction seems to happen instantly it worked great for Anna and Bennett. They both managed to bend the rules of time and fall in love. There are plenty of things to overcome between them – aside from the whole seventeen years' distance between them but it all comes out in a very nice and engaging package.
Under the Never Sky Series by Veronica Rossi
Aria and Perri shipper here!! The Under The Never Sky Series was jam-packed. I love Rossi's writing and world building and every installment to the series never disappoints – it was full of adrenaline pumping scenes and bad-assery. It was a series worth reading!!
Virtuosity by Jessica Martinez
This story has an interesting triangle: A girl, a boy and the violin.
Virtuosity is a simple story that is very inspiring and affecting. It has romance, struggles and determination. Yes, it has the makings of a very predictable story but it was overall interesting. Virtuosity is not simply about music or achieving success thru it. It's about a strong-willed girl shaking off her naiveté giving in to confidence and growing up. It was a simple tugging story!
Wallbanger (Cocktail, #1) by Alice Clayton
I started this book thinking that this would be another one of those typical contemporary novels full of steamy sexy scenes or whatnot related to that, a complication arise and then the main characters fall in love and they live happily ever after blah, so I was really shocked above average to find this book unique and hilariously fun and enjoying!
---
You, what are some of your Forgotten Favorite reads? Please do share them on the comments below. 😉💜