Title: Ruined (Ruined #1)

Author: Amy Tintera

Published by: 03 May 2016 | Harper Teen

Date Read: 03 May 2016

Rating: 4/5 stars

Synopsis from Goodreads:

A revenge that will consume her. A love that will ruin her.

Emelina Flores has nothing. Her home in Ruina has been ravaged by war. She lacks the powers of her fellow Ruined. Worst of all, she witnessed her parents' brutal murders and watched helplessly as her sister, Olivia, was kidnapped.

But because Em has nothing, she has nothing to lose. Driven by a blind desire for revenge, Em sets off on a dangerous journey to the enemy kingdom of Lera. Somewhere within Lera's borders, Em hopes to find Olivia. But in order to find her, Em must infiltrate the royal family.

In a brilliant, elaborate plan of deception and murder, Em marries Prince Casimir, next in line to take Lera's throne. If anyone in Lera discovers Em is not Casimir's true betrothed, Em will be executed on the spot. But it's the only way to salvage Em's kingdom and what is left of her family.

Em is determined to succeed, but the closer she gets to the prince, the more she questions her mission. Em's rage-filled heart begins to soften. But with her life—and her family—on the line, love could be Em's deadliest mistake.
REVIEW
*ARC kindly provided by Harper Teen thru Edelweiss for review*
Honestly, I have not read any works of Amy Tintera. I have heard and read a lot about her previous works but was not able to pick up any of it. Now, when news about Ruined was released, I was immediately hooked with its blurb and the non-stop hype the readers brought about it especially on Twitter.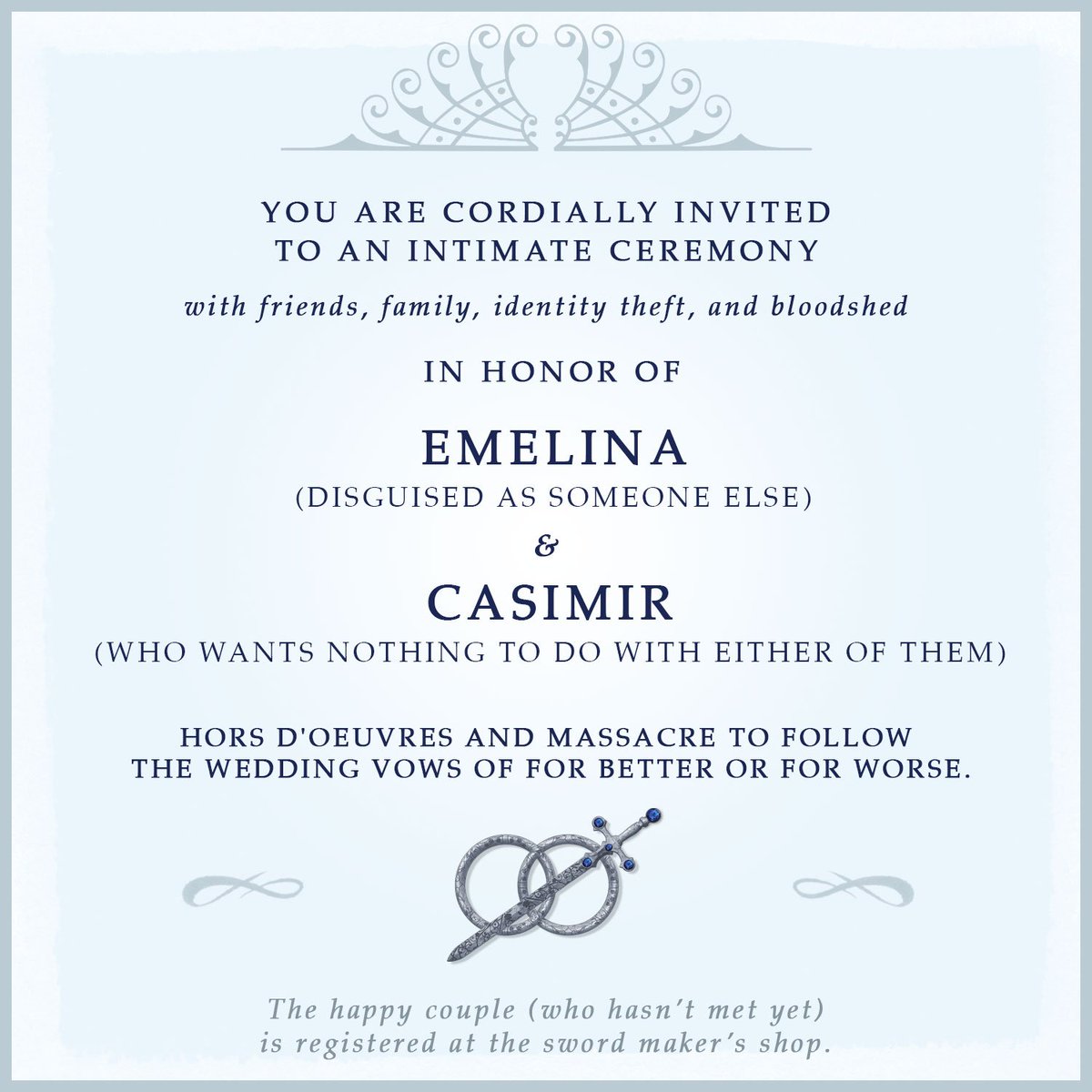 I will not bore you into details on what this book is about. Let that wedding invitation speak on how this book will go along. Aren't you convinced to give this book a try with just that invitation? I'm telling you guys, Ruined is full of heart stopping action – allies, spies and assassins, deceptions, disguise and even a little bit of romance and everything is all rolled into one delicious story.
"She would make it right. She would save her sister, and kill the man who had taken her and murdered their mother."
From the very first page, Emelina already got my attention. For a girl, she's all sharp angles and hard lines. She's not someone to mess with. She's ruthless. She's not your typical perfect heroine – she committed deceit, disguises as another person and even killed. She is focused on getting revenge for what happened to his mother and sister. From then and there, I was immediately hooked by her strong voice on the story.
I was in between with Cas' character when he was introduced in the story. I get the feel from him that for a prince, it seems like there are still a lot he didn't know about his own kingdom. But as the story progress, we get to know him more and understood his naivety. He's your typical teenager – young and carefree. Aside from it, as he gets to know more about Emelina, he begins to question and know more as well about his own kingdom.
"She didn't know what was worse – that he liked her, or that she was pretty sure she felt the same way."
The romance is not the main point of the story but its there and my romantic side deifinitely ate all of it up. I love the chemistry between Cas and Emelina. I love that despite their differences and the deceit that lies between them they gave each other a chance to get to know one another well. I love how Cas seems to be so taken with Emelina as the story progress and same thing with Emelina, it was nice to see her be her real self around Cas.
Aside from these two main characters the secondary characters also made huge impact on the story. I liked Aren and his loyalty to Emelina throughout the story. Damian broke my heart – that's why I'm not going into details about him. There's also Iria who became and friend and ally of Emelina on the story.
Ruined's plot is definitely something new, unpredictable and I really liked how it developed. Add in the engaging way the story was told. It all got me hooked. The last 50% of the book literally left me at the edge of my seat.
The only comment I have is that it could be nice to know more about the cities – Vallos, Lera, Olso and Ruina throroughly. It would be nice to see and at least know its people and culture in a more in-depth way to be able to make us feel that the world is all real. Plus the Ruina magic, I wanted to know more about it. I feel like there are still a lot of thing withheld to us and I'm really looking forward to these things on the upcoming books on this series.
If you're looking for a fantasy novel with a heart-stopping action and kick-ass characters, what are you waiting for? Pick-up Ruined now!
"Three steps separated Cas and Em. If three steps were too many, what was he supposed to do when there were thousands?"