Hi Everyone! Here's another edition of Book Tag – Totally Should've Book Tag – specifically. Thank you so much Jasmine, from Jasmine Pearl Reads for tagging me, you may see her post here. And without further adieu, let's start..
Totally Should've Gotten A Sequel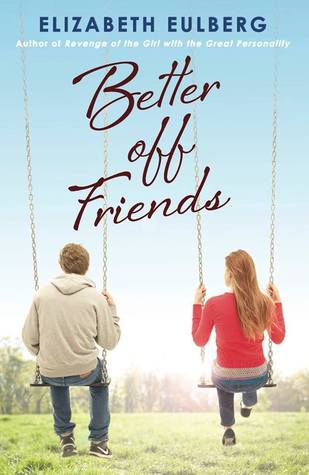 I totally choose Better Off friends by Elizabeth Eulberg. I'm so in love with Levi and Macallan's sweet story and I would totally kill (may be not that literally. lol.) to read more about them.
Totally Should've Had A Spin-Off Series
(Photo is not mine. Credits to the owner.)
No matter how much Abbi Glines's story seems repetitive, full of sex and angst, her stories never fail to satisfy my romance or guilty pleasure read craving. And since everyone on The Rosemary Beach Series seems to be having babies why not make a spin-off series based on the off springs?
Totally Should've Had A Film Franchise
June and Day's story literally broke my heart. Their story should definitely be a movie. Marie Lu is such a great writer as she was able to maintain all the feels from the first to the third book of June and Day's story from The Legend Series. Getting this series in the big screen will totally be awesome!
Totally Should've Had A T.V. Show
(Photo is not mine. Credits to the owner.)
The Lux Series by Jeniffer L. Armentrout is probably one of my favorite series. LIKE EVER. The characters, setting and the writing was all so put together. I just can't help but still be in love with this series even after years of reading it. I still get the nostalgia feel whenever I think about Katy and Daemon's story – I'm that attached to them. Haha. The Lux Series will definitely be a fresh of breathe air to the TV Series being shown right now. It's not that every time you get an Alien to be the main protagonist, right?
Totally Should've Had One Point of View
I actually love stories featuring different POV 's. I love getting each character's take on what is happening on the story. Plus, I actually can't think of a book to put here so let's just leave it at that. *wink*
Totally Should've Had A Cover Change
Skipping this one because I can't think of one. 😛
Totally Should've Stopped Reading
I didn't need to think hard , The Shatter Me Series by Tahereh Mafi is the one that I immediately thought of to put under this category. Up until now I can't get over how this series turned out.  I actually stopped reading on the 2nd novella – Fracture Me and have no intention in reading the final book no more. *sniffs and cries for Adam*
Totally Should've Kept The Covers
On the last book of The Lux Series by Jeniffer L. Armentrout they have decided to revamp the cover and instead of having individual books, they did a special collectors item where the first 2 book and the next 2 are compiled under 1 book. But then finally, they have decided to bring back the original covers for individual books but the last book is still left out of place. This sudden change actually made my collection sad because they don't match. AT ALL. The last book actually felt left out among the bunch. See image above under the Totally Should've Had A T.V. Show to see it for yourself.
Totally Shouldn't Have Pre-Judged
I am not new to Renee Carlino's writing but from the emotional wreck that I've been through with reading two previous novel of hers I was quite hesitant to pick up another work of hers for fear of tears and heartbreak and another emotional wreckage. But I can't help it, Before We Were Strangers was just calling me. Though I did shed a tear or two in reading this story, the overall story was just sweet, hopeful and beautiful.
---
It was another fun tag guys! I once again enjoyed searching for books that is suitable for each category. I'm tagging all of you readers to do this tag as well. Link me up to your posts so I can visit and read it as well. Have a nice day everyone!