Hi Guys! Welcome to another edition of my monthly feature of Anticipated Releases. 😉
June  marks the end of summer season here in the Philippines but I know that on the other side of the world it's just the start of it. So it's no surprise that there are still a lot of contemporary/summery reads that are set to be released for June. Add in the fact that a LOT of my most awaited fantasy reads are set to be released next month as well. Yay, right? 🙂
So, I will no longer prolong the wait. Here are my Anticipated Releases for June 2016:
738 Days by Stacey Kade
Release Date: 07 June 2016
At fifteen, Amanda Grace was abducted on her way home from school. 738 days later, she escaped. Her 20/20 interview is what everyone remembers—Amanda describing the room where she was kept, the torn poster of TV heartthrob Chase Henry on the wall. It reminded her of home and gave her the strength to keep fighting.

Now, years later, Amanda is struggling to live normally. Her friends have gone on to college, while she battles PTSD. She's not getting any better, and she fears that if something doesn't change soon she never will.

Six years ago, Chase Henry defied astronomical odds, won a coveted role on a new TV show, and was elevated to super-stardom. With it, came drugs, alcohol, arrests, and crazy spending sprees. Now he's sober and a Hollywood pariah, washed up at twenty-four.

To revamp his image, Chase's publicist comes up with a plan: surprise Amanda Grace with the chance to meet her hero, followed by a visit to the set of Chase's new movie. The meeting is a disaster, but out of mutual desperation, Amanda and Chase strike a deal. What starts as a simple arrangement, though, rapidly becomes more complicated when they realize they need each other in more ways than one. But when the past resurfaces in a new threat, will they stand together or fall apart?
---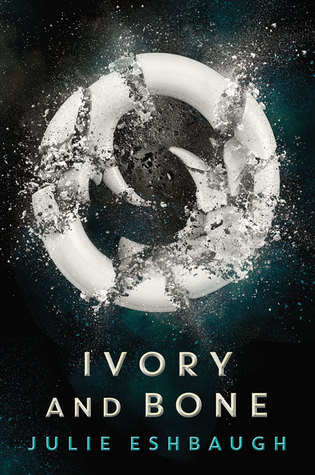 Ivory and Bone (Ivory and Bone #1) by Julie Eshbaugh
Release Date: 07 June 2016
A prehistoric fantasy—with allusions to Pride and Prejudice.

Hunting, gathering, and keeping his family safe—that's the life seventeen-year-old Kol knows. Then bold, enigmatic Mya arrives from the south with her family, and Kol is captivated. He wants her to like and trust him, but any hopes of impressing her are ruined when he makes a careless—and nearly grave—mistake. However, there's something more to Mya's cool disdain…a history wrought with loss that comes to light when another clan arrives. With them is Lo, an enemy from Mya's past who Mya swears has ulterior motives.

As Kol gets to know Lo, tensions between Mya and Lo escalate until violence erupts. Faced with shattering losses, Kol is forced to question every person he's trusted. One thing is for sure: this was a war that Mya or Lo—Kol doesn't know which—had been planning all along.
---
My Lady Jane by Cynthia Hand ,Brodi Ashton & Jodi Meadows
Release Date: 07 June 2016
For fans of The Princess Bride comes the comical, fantastical, romantical, (not) entirely true story of Lady Jane Grey.

Lady Jane Grey, sixteen, is about to be married to a total stranger—and caught up in an insidious plot to rob her cousin, King Edward, of his throne. But that's the least of Jane's problems. She's about to become Queen of England. Like that could go wrong.
---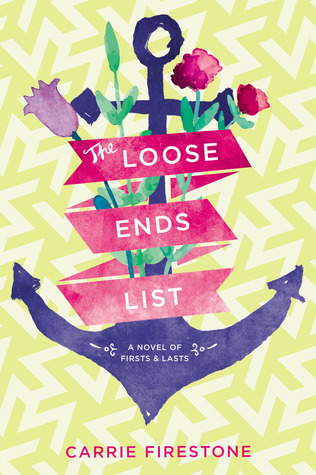 The Loose Ends List by Carrie Firestone
Release Date: 07 June 2016
Seventeen-year-old Maddie O'Neill Levine lives a charmed life, and is primed to spend the perfect pre-college summer with her best friends and young-at-heart socialite grandmother (also Maddie's closest confidante), tying up high school loose ends. Maddie's plans change the instant Gram announces that she is terminally ill and has booked the family on a secret "death with dignity" cruise ship so that she can leave the world in her own unconventional way – and give the O'Neill clan an unforgettable summer of dreams-come-true in the process.

Soon, Maddie is on the trip of a lifetime with her over-the-top family. As they travel the globe, Maddie bonds with other passengers and falls for Enzo, who is processing his own grief. But despite the laughter, headiness of first love, and excitement of glamorous destinations, Maddie knows she is on the brink of losing Gram. She struggles to find the strength to say good-bye in a whirlwind summer shaped by love, loss, and the power of forgiveness.
---
The Museum of Heartbreak by Meg Leder
Release Date: 07 June 2016
In this ode to all the things we gain and lose and gain again, seventeen-year-old Penelope Marx curates her own mini-museum to deal with all the heartbreaks of love, friendship, and growing up.

Welcome to the Museum of Heartbreak.

Well, actually, to Penelope Marx's personal museum. The one she creates after coming face to face with the devastating, lonely-making butt-kicking phenomenon known as heartbreak.

Heartbreak comes in all forms: There's Keats, the charmingly handsome new guy who couldn't be more perfect for her. There's possibly the worst person in the world, Cherisse, whose mission in life is to make Penelope miserable. There's Penelope's increasingly distant best friend Audrey. And then there's Penelope's other best friend, the equal-parts-infuriating-and-yet-somehow-amazing Eph, who has been all kinds of confusing lately.

But sometimes the biggest heartbreak of all is learning to let go of that wondrous time before you ever knew things could be broken.
---
Autofocus by Lauren Gibaldi
Release Date: 14 June 2016
Family.

It's always been a loaded word for Maude. And when she is given a senior photography assignment—to create a portfolio that shows the meaning of family—she doesn't quite know where to begin. But she knows one thing: without the story of her birth mother, who died when Maude was born, her project will be incomplete.

So Maude decides to visit her best friend, Treena, at college in Tallahassee, Florida, where Maude's birth mother once lived. But when Maude arrives, she quickly discovers that Treena has changed. With a new boyfriend and a packed social calendar, Treena doesn't seem to have time for Maude—or helping Maude in her search.

Enter Bennett, a cute guy who lives in Treena's dorm. He understands Maude's need to find her mother. And as Bennett helps Maude in her search, she starts to find that her mother's past doesn't have to define her own future.

Lauren Gibaldi has crafted a beautiful and timely coming-of-age story that poses the question: Is who we are determined at birth, or can we change as we grow?
---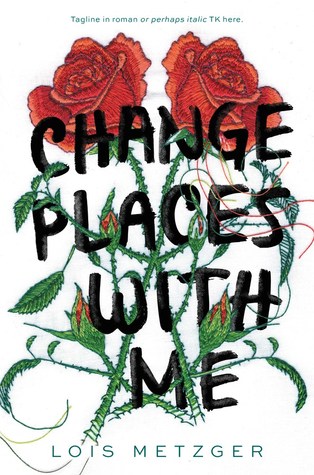 Change Places with Me by Lois Metzger
Release Date: 14 June 2016
Rose has changed. She still lives in the same neighborhood with her stepmother and goes to the same high school with the same group of kids, but when she woke up today, something was just a little different than it was before. The dogs who live upstairs are no longer a terror. Her hair and her clothes all feel brand-new. She wants to throw a party—this from a girl who hardly ever spoke to her classmates before. There is no more sadness in her life; she is bursting with happiness.

But something still feels wrong to Rose. Because, until very recently, Rose was an entirely different person—a person who is still there inside her, just beneath the thinnest layer of skin.
---
How It Feels to Fly by Kathryn Holmes
Release Date: 14 June 2016
The movement is all that matters.

For as long as Samantha can remember, she's wanted to be a professional ballerina. She's lived for perfect pirouettes, sky-high extensions, and soaring leaps across the stage. Then her body betrayed her.

The change was gradual. Stealthy.

Failed diets. Disapproving looks. Whispers behind her back. The result: crippling anxiety about her appearance, which threatens to crush her dancing dreams entirely. On her dance teacher's recommendation, Sam is sent to a summer treatment camp for teen artists and athletes who are struggling with mental and emotional obstacles. If she can make progress, she'll be allowed to attend a crucial ballet intensive. But when asked to open up about her deepest insecurities, secret behaviors, and paralyzing fears to complete strangers, Sam can't cope.

What I really need is a whole new body.

Sam forms an unlikely bond with Andrew, a former college football player who's one of her camp counselors. As they grow closer, Andrew helps Sam see herself as he does—beautiful. But just as she starts to believe that there's more between them than friendship, disappointing news from home sends her into a tailspin. With her future uncertain and her body against her, will Sam give in to the anxiety that imprisons her?
---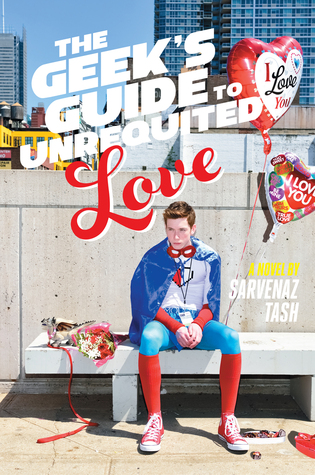 The Geek's Guide to Unrequited Love by Sarvenaz Tash
Release Date: 14 June 2016
John Hughes meets Comic Con in this hilarious, unabashedly romantic, coming-of-age novel about a teenager who is trying to get his best friend to fall in love with him from the author of Three Day Summer.

Peter Parker and Gwen Stacy…
Archie and Veronica…
Althena and Noth…
…Graham and Roxy?

Graham met his best friend, Roxana, when he moved into her neighborhood eight years ago, and she asked him which Hogwarts house he'd be sorted into. Graham has been in love with her ever since.

But now they're sixteen, still neighbors, still best friends. And Graham and Roxy share more than ever—moving on from their Harry Potter obsession to a serious love of comic books.

When Graham learns that the creator of their favorite comic, The Chronicles of Althena, is making a rare appearance at this year's New York Comic Con, he knows he must score tickets. And the event inspires Graham to come up with the perfect plan to tell Roxy how he really feels about her. He's got three days to woo his best friend at the coolest, kookiest con full of superheroes and supervillains. But no one at a comic book convention is who they appear to be…even Roxy. And Graham is starting to realize fictional love stories are way less complicated than real-life ones.
---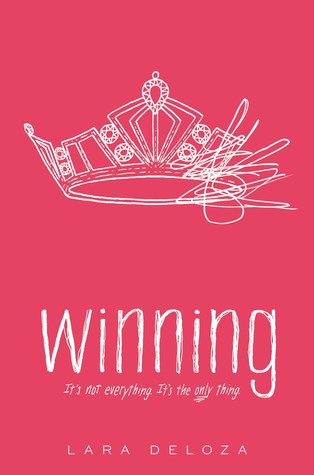 Winning by Lara Deloza
Release Date: 28 June 2016
House of Cards meets Election in this wickedly entertaining story about an uber-ambitious high school junior.

Whoever said being nice would get you to the top?

Certainly not Alexandra Miles. She isn't nice, but she's more than skilled at playing the part. She floats through the halls of Spencer High, effortlessly orchestrating the actions of everyone around her, making people bend to her whim without even noticing they're doing it. She is the queen of Spencer High—and it's time to make it official.

Alexandra has a goal, you see—Homecoming Queen. Her ambitions are far grander than her small town will allow, but homecoming is just the first step to achieving total domination. So when peppy, popular Erin Hewett moves to town and seems to have a real shot at the crown, Alexandra has to take action.

With the help of her trusted friend Sam, she devises her most devious plot yet. She'll introduce an unexpected third competitor in the mix, one whose meteoric rise—and devastating fall—will destroy Erin's chances once and for all. Alexandra can run a scheme like this in her sleep. What could possibly go wrong?
---
You, what are your anticipated releases for the next month?